Improve Your Smile with Dental Veneers
Montrose, CA Dental Care & Cosmetic Treatments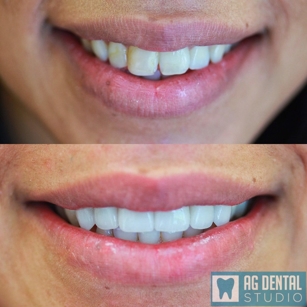 Veneers are an excellent corrective option for patients who have irregularities in their smile. When placed over the surface of your tooth, veneers serve the dual purpose of protecting a broken tooth and improving the overall appearance of your tooth. Made from a porcelain material, veneers are most commonly applied to the front teeth. If you have experienced a broken or missing tooth toward the back of your mouth, we can recommend other options, such as bridges or crowns to correct the problem.
AG Dental Studio takes pride in crafting beautiful smiles using the latest and most advanced dental technologies. With our dedication to quality dental care and commitment to outstanding patient service, you won't be afraid of visiting the dentist anymore. We have established numerous long-lasting relationships with our loyal patients based on mutual respect and trust. Our team looks forward to serving you with our proven cosmetic dentistry solutions.
Let's get your smile back in shape. Set up a date and time for your next visit.
Cutting-Edge Aesthetic Solutions
Bonding veneers to your teeth is a process that requires skill and technique. Our Montrose, CA dentist office specializes in designing beautiful smiles that patients are happy with. With our attention to detail and high-quality products, you can rest assured knowing that we can give you the best possible smile with our veneer applications. After an initial consultation and examination, we will install your veneers over an average of two visits. Before we begin installation, your teeth likely need to be shaped to ensure a perfect fit for your new veneers. Then, we apply a cap of porcelain veneer over your teeth.
You are likely a good candidate for porcelain veneers if you suffer from:
Misalignment
Cracks
Chips
Irregular shapes
Stains and discolorations
On overall healthy teeth, veneers can help you reach your cosmetic dentistry goals. Veneers may not be a good option for patients whose teeth exhibit decay, or whose teeth enamel have been weakened from lack of adequate care. When we meet with you, we can examine your teeth and offer you an honest recommendation as to whether or not you are a candidate for veneer application.